Condo Contact Magazine
NOW AVAILABLE:
Spring 2017 Issue of the CONDO CONTACT Magazine
We are pleased to share the CCI Eastern Ontario Chapter Spring 2017 Edition of the Condo Contact Magazine with our members. The magazine is available for viewing in PDF Format or in Flipbook Format.
This issue is a Special Edition with a focus on Amendments to the Condominium Act - Phase 1 of the New Regulations.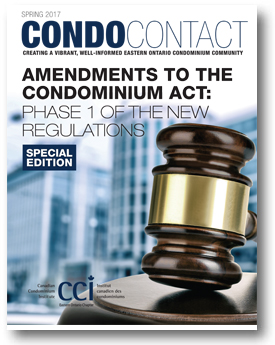 INSIDE
SPECIAL ISSUE
Condo Act Amendments

Amendments to the Condominium Act: Phase 1 of The New Regulations

What Will Licensing of Condo Managers Look Like in Ontario?

The British Columbia Experience with Licensing Condomium Property Managers

How Will Legislative Change Impact Alternative Dispute Resolution?

NEW INITIATIVE
Successful Launch for CondoSTRENGTH!
To read past issues in our Newsletter Archive, click here.
---
Business Partner Members
Donley's
Pool Service

Taggart Realty
Management Ltd.