Do Not Feed the Lawyers - Managing conflict before it escalates
July 4, 2018
A new, intimate and interactive advanced level program designed to help condominium boards strengthen their communities by embracing a proactive approach to better manage conflict.
(Note: Despite the course name and cooking school location, the only food offered during this presentation is cookies and coffee)
New course/very limited attendance
Time: Registration 6:00pm – 6:30pm • Seminar: 6:30pm - 9:00pm
PC Cooking School Room, Superstore, 190 Richmond Road, Ottawa, Ontario
Fee:
CCI Member - Earlybird (by June 7th): $75.00 + HST
CCI Member - After June 7th: $95.00 + HST
Non-Member: $275.00 + HST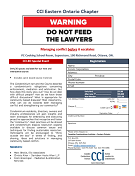 Session Topics:
The Condominium Act and the Courts describe a condominium's obligations concerning enforcement, mediation and arbitration. But how does this really play out? How do we deal with difficult people? How do we have those difficult discussions? What is appropriate for community based disputes? Most importantly, what can we do towards both managing conflict and strengthening our community?
Condominium residents, directors, owners and industry professionals will gain insights and learn strategies for embracing and executing proactive approaches that recognize and foster the "community". Best practices will be shared and condominium dispute resolution experts available to discuss common issues and techniques for finding sustainable resolution. Participants will be encouraged to "think outside the box" in terms of finding, and sharing, ideas and solutions in managing community based conflict.
Speakers:
Marc Bhalla - C.Med, BA (Elia Associates

PC

)
Christy Allen - B.Comm, LL.B. (Davidson Houle Allen LLP)
Colm Brannigan - C.Med, C.Arb, LL.M. (ADR), LL.B. (Mediation & Arbitration Services)
RESERVATIONS A MUST! Avoid Disappointment – Register Today
Intimate and interactive
Limited to 35 registrants, first come first serve
Includes spiral bound course materials
Register Today!
You can either conveniently register online and pay by credit card, or download our printable Registration Form (PDF), and mail or fax your completed Registration to the address indicated on the form.
For more information please contact the office directly at 613-755-5145.
---
Business Partner Members
Donley's
Pool Service

Taggart Realty
Management Ltd.