The ABCs of Tarion
May 4, 2016 06:30 PM - 09:00 PM - Ottawa
Time: Registration 6:30 – 7:00 p.m. • Seminar 7:00 – 9:00 p.m.
Hellenic Community Center, Hellenic Meeting and Reception Centre, 1315 Prince of Wales Drive, Ottawa, Ontario
Members - Free • Non-Members - $50 plus tax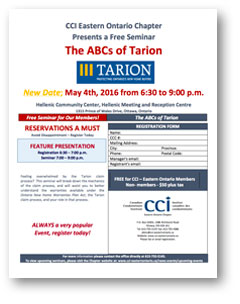 Feeling overwhelmed by the Tarion claim process? This seminar will break down the mechanics of the claim process, and will assist you to better understand the warranties available under the Ontario New Home Warranties Plan Act, the Tarion claim process, and your role in that process.
ALWAYS a very popular Event – Register Today
Registration is closed.
---