CCI Eastern Ontario Chapter – Your Condo Connection
Message from the CCI-EO Chapter President
Impact of COVID-19 on Upcoming CCI Eastern Ontario Chapter Seminars and Courses
OTTAWA, ON (March 18, 2020) - The CCI Eastern Ontario Chapter (CCI-EO) has been monitoring the situation around the Coronavirus (COVID-19) as it continues to escalate across the country and around the world. We need to do our part in trying to "flatten the curve".
Coronavirus (COVID-19) and Condos – Meetings, Messaging and Maintenance
Read the article by Davidson Houle Allen LLP Condominium Law
---
CCI-EO letter to the Mayor of Ottawa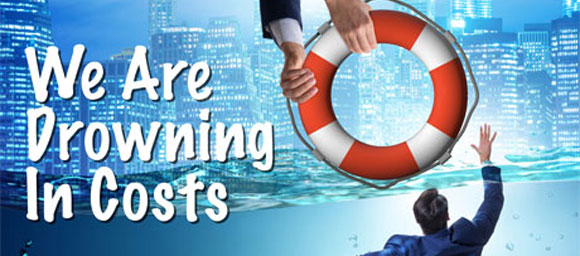 Re: Water billing rates in the City of Ottawa
I am writing on behalf of the Eastern Ontario Chapter of the Canadian Condominium Institute (CCI), as a voice for condominium corporations in the City of Ottawa, to express disappointment and concern at the city's current water billing structure.
To read the entire letter, click here.
Click here to download the postcard to send to Mayor Watson.
---
Legislative Newsflash - Proposed Changes to the CAT'S Jurisdiction
One of the many changes to the condominium legislative landscape that came into force on November 1, 2017 was the creation of the Condominium Authority Tribunal (CAT). Since its inception, the CAT has only had the jurisdiction to deal with disputes over condominium records. However, the Government of Ontario recently announced proposed changes to the regulations under the Condominium Act, 1998 that would significantly increase the scope of the CAT's jurisdiction.
Click here for complete information

All Condominiums are Legally Required to File Condo Returns
Under the Condominium Act, 1998 (the Act) and Ontario Regulation 377/17, all condominium corporations are legally required to file condominium returns with the Condominium Authority of Ontario (CAO).
Any condominium corporations that have not yet filed their returns with the CAO and paid their annual assessments, must act immediately to avoid legal consequences for not complying with the Act, including late penalties.
Please contact the CAO at: 416-901-9356 or toll-free: 1- (800) 854-9014
To read archived news items, click here.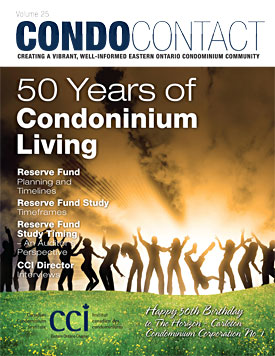 Condo Contact Magazine
Volume 25: 50 Years of Condominium Living
Included in this Issue: 50 Years of Condominium Living at CCC 1! - Reserve Fund Planning and Timelines - Reserve Fund Study Timeframes - Reserve Fund Study Timing – An Auditor's Perspective - CCI Director Interviews (Part 1 of 3); and more!
To read Volume 25, click here.
Professional Services Directory
The Professional Services Directory is now available online. Click here to view and download the directory.
---