CCI Eastern Ontario Chapter – Your Condo Connection
The Canadian Condominium Institute leads the National condominium industry by providing education, information awareness and access to expertise by and for our members.
Coast to Coast…
we are your condo connection!

The mission of the "Canadian Condominium Institute ("CCI") a non-profit corporation, is to promote the interests of groups involved in condominiums across Canada including unit Owners, boards of directors, managers, governmental authorities, lenders and others. The CCI achieves this mission by providing leadership and expertise in manners related to the condominium industry.
---
CCI-EO letter to the Mayor of Ottawa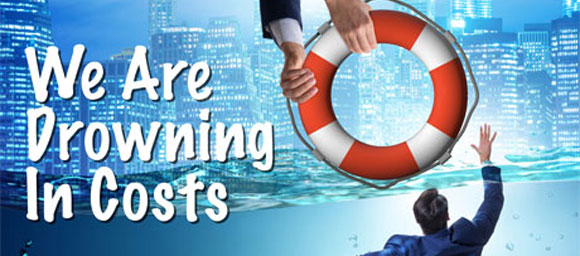 Re: Water billing rates in the City of Ottawa
I am writing on behalf of the Eastern Ontario Chapter of the Canadian Condominium Institute (CCI), as a voice for condominium corporations in the City of Ottawa, to express disappointment and concern at the city's current water billing structure.
To read the entire letter, click here.
Click here to download the postcard to send to Mayor Watson.
---

ALL CONDOMINIUMS ARE LEGALLY REQUIRED TO FILE CONDO RETURNS
Under the Condominium Act, 1998 (the Act) and Ontario Regulation 377/17, all condominium corporations are legally required to file condominium returns with the Condominium Authority of Ontario (CAO).
Any condominium corporations that have not yet filed their returns with the CAO and paid their annual assessments, must act immediately to avoid legal consequences for not complying with the Act, including late penalties.
Please contact the CAO at: 416-901-9356 or toll-free: 1- (800) 854-9014
To read archived news items, click here.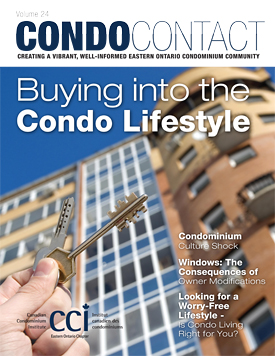 Condo Contact Magazine
Volume 24: Buying into the Condo Lifestyle
Included in this Issue: Condominium Culture Shock - Windows: The Consequences of Owner Modifications - Looking for a Worry-Free Lifestyle - Is Condo Living Right for You?; and more!
To read Volume 24, click here.
Professional Services Directory
The Professional Services Directory is now available online. Click here to view and download the directory.
---