Self-Managed Condominium Corporations
April 7, 2016 12:00 PM - 02:00 PM - Ottawa
Time: noon to 2:00 p.m.
50 O'Connor, Suite 314, Conference Centre, Ottawa, Ontario
Members - Free • Non-Members - $50 plus tax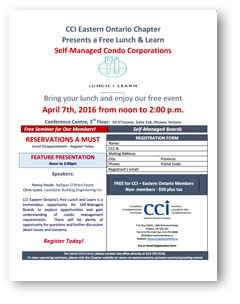 CCI Eastern Ontario's free Lunch and Learn is a tremendous opportunity for Self-Managed Boards to explore opportunities and gain understanding of condo management requirements. There will be plenty of opportunity for questions as well as sharing ideas and experiences.
Speakers:
Nancy Houle - Nelligan O'Brien Payne
Chris Lyons - Laviolette Building Engineering Inc.
SPACE IS LIMITED, REGISTER TODAY!
Registration is closed.