Fall Directors Course 2016
November 19, 2016 - November 20, 2016 09:00 AM - 04:00 PM (Daily) - Ottawa
Time: 9:00am – 4:00pm
Hellenic Community Center, Hellenic Meeting and Reception Centre, 1315 Prince of Wales Drive, Ottawa, Ontario
Fee:
CCI Member - First Registrant: $285.00
CCI Member - Additional Registrant: $240.00
Non-Member: $570.00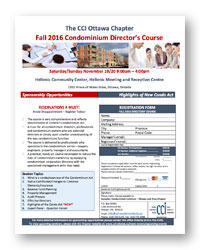 Session Topics:
What is a condo/overview of the Condominium Act
Status Certificates/Changes to Common Elements/Insurance
Reserve Fund Planning
Property Management
Audit Process
Effective Directors
Highlights of the Condo Act *NEW*
Expert Panel - Question Forum
RESERVATIONS A MUST! Avoid Disappointment – Register Today
The course is very comprehensive and reflects requirements of Ontario's Condominium Act.
A must for all condominium directors, professionals and condominium owners who are potential directors or simply want a better understanding of the way condominiums function
The course is delivered by professionals who specialize in the condominium sector – lawyers, engineers, property managers and accountants.
A practical, hands-on course developed to reduce the risks of condominium ownership by equipping condominium corporation directors with the specialized management skills they need.
Registration is closed.